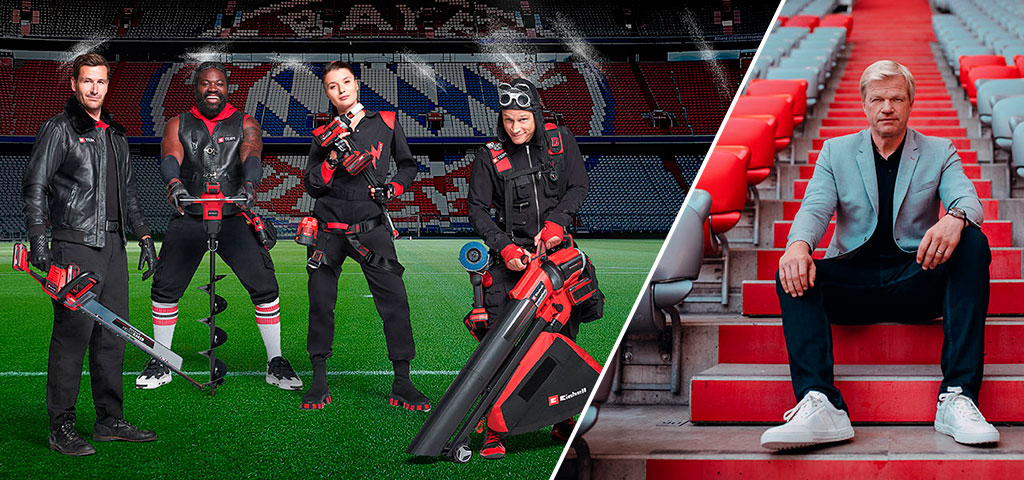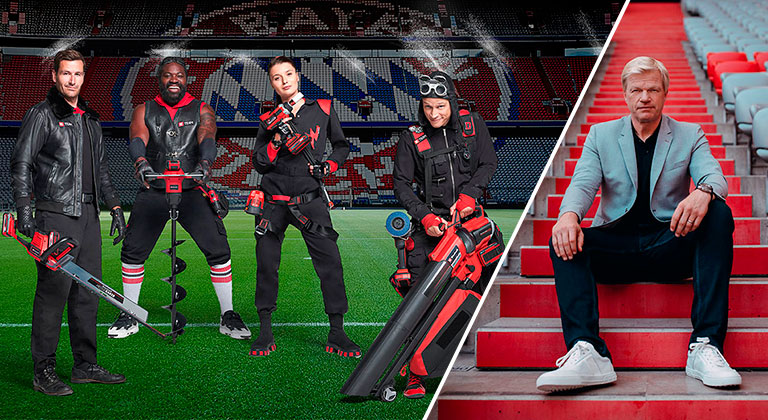 The E-Team on a mission for the FC Bayern München
Location: Allianz Arena
Client Oliver Kahn calls the Einhell E-Team to the Allianz Arena once again - for a very special mission: He wants to create the perfect conditions! Equipped with Power X-Change tools for workshop and garden, the E-Team is once again taking on a new challenge this year. Impossible? Not for the E-Team! Thanks to cordless freedom, Frank, Mike, Crazy-DIY and Skye are the experts for particularly difficult tasks and complete any mission, no matter how challenging.
The E-Teams newest TV-mission
at the Allianz Arena
The garden favourites of the E-Team
Everything you need for your mission garden
Cordless Hedge Trimmer GE-CH 36/61 Li
Battery power, endurance and precision
Perfectionist Frank prefers to reach for the GE-CH 36/61 Li cordless hedge trimmer, because with it he is perfectly equipped for even the most demanding cutting jobs: High-quality blades made of laser-cut and diamond-ground steel with generous 26 mm tooth spacing enable maximum precision, a long sharpness and service life as well as perfect results even with thicker branches. After hedge cutting: the two batteries required can be used in any other of the over 250 Power X-Change tools.
Cordless Leaf Vacuum
VENTURRO 36/240
Crazy how much it can do! The powerful 36V battery-powered leaf vacuum VENTURRO 36/240 works completely cordless, is also a leaf blower and also has an integrated shredder. It's only logical that Crazy DIY has chosen the VENTURRO 36/240 as its favorite garden tool.
Cordless Chain Saw
FORTEXXA 18/30
The FORTEXXA 18/30 cordless chainsaw is exactly to Skye's taste: a powerful yet precise chainsaw with which felling trees, sawing off thick branches or chopping up tree trunks is no longer a problem. The perfect equipment for its use in the Allianz Arena.
Cordless Earth Auger
GP-EA 18/150 Li BL
As a plant specialist, Mike ensures the right planting for every mission. That's why the GP-EA 18/150 Li BL cordless earth auger is the ideal powerful helper for Mike to conveniently dig holes for trees, shrubs, but also fence posts. With it, he can really live out his green thumb!
The tool favourites of the E-Team
Equip your workshop with battery power!
Cordless Rotary Hammer Herocco 36/28
Brachial battery power
Two power packs under each other! When heavier tools need to be brought out for a mission, Mike reaches for the Herocco 36/28. The cordless rotary hammer combines high drilling performance with cordless freedom. The brushless motor, 3.2 joules of impact force and the combined 36 V power from two Power X-Change batteries, mean the rotary hammer won't shy away from even the toughest materials. Like Mike, the rotary hammer is also capable of sensitivity despite all the power: The finely adjustable speed electronics enable sensitive work. In addition, the rotary hammer is equipped with a universal SDS plus tool holder with semi-automatic and a continuously adjustable, robust drilling depth stop made of solid metal.
Cordless Impact Screwdriver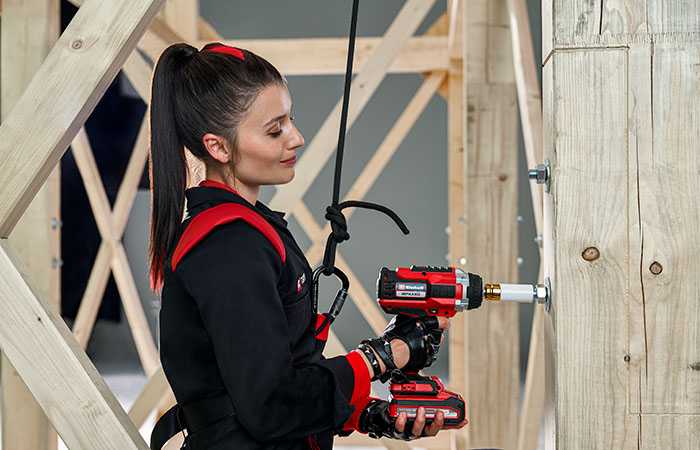 Cordless Impact Screwdriver IMPAXXO 18/400
As powerful, efficient and quick-witted as she is, Skye also loves her cordless impact screwdriver, which she doesn't put down even when she's off work. The versatile IMPAXXO 18/400 impact wrench is an indispensable helper on any mission. It effortlessly turns in large or long screws, and thanks to the brushless motor, the screwdriver shows its endurance even during longer missions.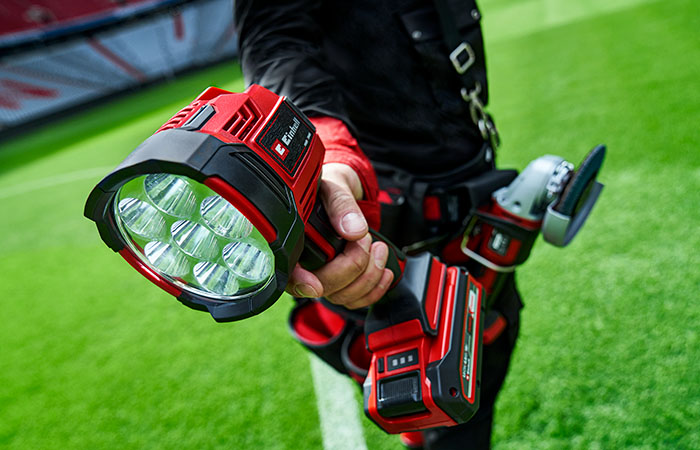 Cordless Light TE-CL 18/2500
With 2,500 lumens, the Einhell TE-CL 18/2500 LiAC - Solo cordless light brings plenty of light into the darkness and is thus the perfect companion for the missions of the e-team. The rechargeable lamp is not only practical in poorly lit places such as the basement, the construction site, the attic or in dark corners of the workshop. The handy rechargeable lamp also provides a full view of the action in the event of a power failure or on other missions when a power-independent light source is not to be dispensed with.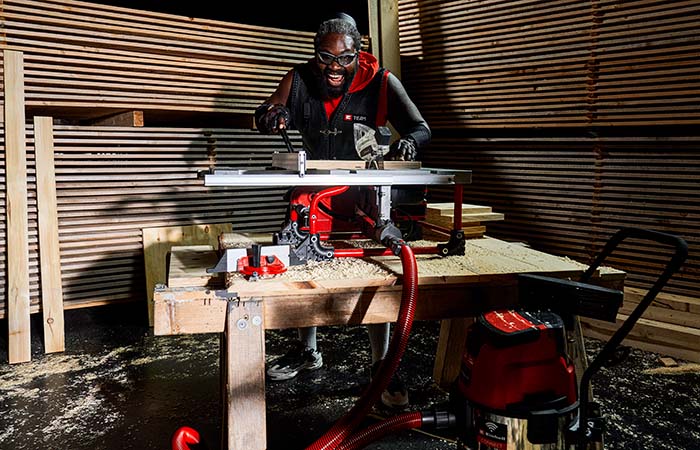 Cordless Circular Saw TE-TS 36/210 Li
The TE-TS 36/210 Li cordless circular saw is just as flexible as its projects, making it indispensable for any mission of the E-Team! Lightweight and compact, it can be used wherever it is needed. The circular saw can be used to cut and crosscut soft and hard wood. For wider workpieces, the table has extendable extensions on the right. Infinite radius of action thanks to Power X-Change!
More equipment for your mission
Tools, accessories and more!